We can supply and setup a range of standard desktop computers from major manufacturers such as Hewlett Packard, Fujitsu or Lenovo, all suited to your budget and requirements. As part of the service we can install any additional software you require, you just need to provide the license keys and software disks. Alternatively if you need to update your software, such as Microsoft Office we can advise and supply the most suitable option for your circumstances. You may also want to take the opportunity to upgrade your internet security solution, if so we highly recommend Eset Security, which we can supply and install for you.
If you need your new system setup onsite and/or data transferred to it, this can be done at a reasonable cost, we can also supply and configure a backup solution for you if required.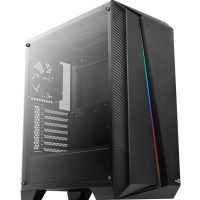 If you are a gamer or need to run graphic design, video editing or CAD software then you will need a custom built PC. Quality parts from manufacturers including Gigabyte and Coolermaster are used throughout and all systems come with a standard 1yr return to base (RTB) warranty, which can be upgraded to 3yrs RTB at a low cost. We can advise on a system to suit your needs; again additional software can be installed or data transferred if required.  If you are interested in a custom built PC then take a look here or alternatively contact us.